Conch Vacation
Rentals
w/ Boats
In the Florida Keys.
Marathon Vacation Rental Pool Headquarters In Duck Key !!!.
---
Conc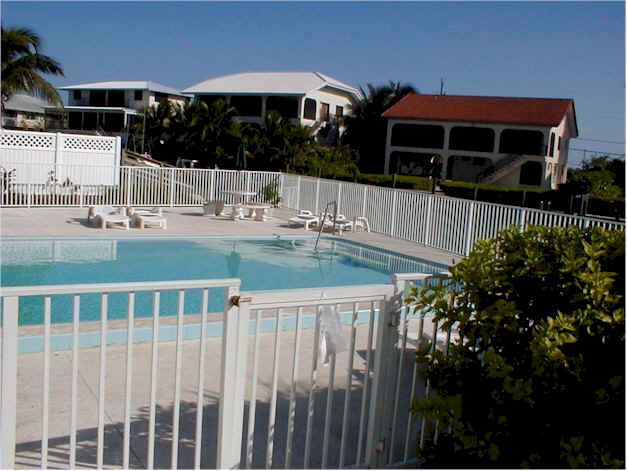 h Real Estate Inc. Has been serving the Florida Keys with great vacation rentals since 1987, and now we introduce our Duck Key Pool Packages. These homes are located on prestigious Duck Key, about 10 Minutes out of Marathon. They have a large private pool and are located right in the center of the huge Hawk's Cay Complex. Crystal Clear canals with easy ocean access are the norm in this beautiful community. 2 - 2 bedroom 2 bath units are available at only 1050/wk. Units #5 and #6 both have frontage on the beautiful Canal front location. #6 is the unit that has a small screened in pool enclosure that overlooks the large fenced in pool. We can also deliver one of our quality V-22 whalers with a 200 Yamaha and GPS for 650/wk, and have it right at the door waiting, for a trouble free and enjoyable vacation. I hate to say it being from Marathon, but the reefs off of Duck Key have a great variety of edible fish, I think a tad bit better than the Marathon area, and access is straight out on either side of these units. I am sure you will be able to find the home or boat that will make your Marathon Vacation a great one! I am Adam Angermann a salesman at Conch Realty, and I want to find you the perfect Keys vacation at a price that will not hurt you financially. If you don't see what you want here, drop me an e-mail and I will get right back to you with a vacation that will meet your every need. Look around on our other pages and, If you are interested in a pool check out the hover button for pool home for more information on the Duck Key Pool Home, another one of our premier vacation homes with pool in Marathon.
---
rentcity@earthlink.net ask for Adam, Your Vacation helper from the Keys.

Conch Realty Sales Inc.
11400 Overseas Hwy Suite 101
Marathon, Fl. 33050

Copyright ©2014 Florida Keys Vacation Rentals